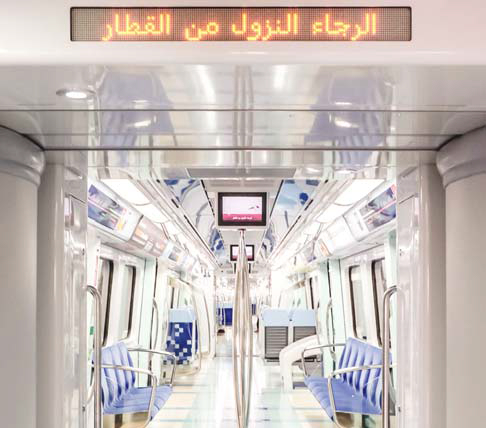 The standard AMT5-PID is a 16 x 160 LED high brightness display with a wide viewing angle.
The PID shares the AMT-5 CAN network with other CAN-based AMT-5 devices, reducing the required amount of cabling on each train. Redundant network connections are supported to improve reliablility and provide fault resilience.
The PID supports multiple controllers with priority locking and arbitration to ensure that the most important message is displayed.
Customised Display Requirements
The AMT-5 PID can be customised to meet specific requirements.
The display size configuration can be varied to meet specific display requirements.

The enclosure can be customised to suit specific mounting requirements.

The controller can be integrated with large displays to allow, for example, roadside variable message signs to be integrated into an AMT-5 system.
Please contact us for details and to discuss customisation.
Physical
Dimensions (without mounting brackets)
731.5mm long x 81.1mm high x 77mm deep
Dimensions (viewable area)
720mm long x 70.3mm high
Dimension (with mounting brackets)
801.5mm long x 81.1mm high x 77mm deep
IP rating
IP54

Power
LED Supply Voltage
Standard 70V - 110 V DC or customer defined
LED Supply Consumption
20W
Internal current at 5V DC
3.7 A
Control Voltage
12V ‐ 24V DC

Network
Communications
Dual CAN 2.0B

Display
Display Area
16 x 160 pixel
LED colour
Amber
LED pitch
4.5mm
Built-in Character sets
Unicode Latin
Unicode Arabic
Other character sets can be loaded as required
Left-to-right and right-to-left text supported
Viewing Angle
120° for 86.4% of display
90° for display edges
Display Brightness (max)
1109 cd/m2
Certification
EN50155